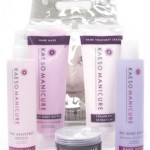 Kaeso beauty products have been building a growing fan base all over the UK thanks to their ability to deliver impressive results while being completely free from harmful chemicals. The Kaeso manicure beauty range products are all free from potential harmful chemicals which can be found in some low quality beauty products. There are no parabens and preservatives. Using only natural ingredients, with the Key Ingredients & Benefits, Pink Grapefruit helps to improve skin tone while the aroma uplifting and energizing, Bearberry a natural astringent which helps the skin to lock in moisture reducing oiliness, Cranberry helps to nourish and lock in moisture, Pomegranate a recognised astringent with excellent moisturising benefits.
Mini Manicure £20
Luxury Manicure £25
(Includes cuticle soak, heated mittens, hand & arm massage, cuticle work and file & varnish)
Mini Pedicure £25
Luxury Pedicure £30
(Includes spa bath, hard skin on heels removed, exfoliation,  leg & foot massage, cuticle work and file & varnish)
Body & soul unite as senses come alive in this invigorating pedicure experience! Shea Butter and Arnica heal and restore as the aromatherapy benefits of Lavender and Tea Tree Oil soothe to enhance sensory well-being. The spirit renewed, feet are returned to a natural state of balanced hydration. Experience the Sensation!

File and varnish to toes £15
File and varnish to hands £15